OWIS Osaka fosters an engaging, multicultural environment where students develop a love of lifelong learning and a sense of one-world community. This goes a long way to create responsible and confident global citizens of the future while allowing them to build flourishing careers in a global context.

Our qualified teachers take pride in their work and they do their best to help students excel academically and identify their talents in other aspects of life. We, at OWIS Osaka, aim to promote holistic development of our students.
Care. Commitment. Community. That's What OWIS Osaka is all About!
Our Primary Years Programme nurtures students in a one-world community that promotes tolerance and allows students to explore diverse perspectives.
Our exciting, inquiry-based curriculum instills a sense of engagement and joy in our students. With key subjects, such as Maths, English, Music, Art, and Units of Inquiry, forming the core of our curriculum and with extracurricular activities complementing them perfectly by allowing students to experience well-rounded development, our primary years programme is uniquely designed to deliver optimal learning and development outcomes.
We nurture our students in a friendly environment, teaching them the value of compassion, care, and politeness in all their interactions with others. Our teachers are dedicated to bringing out the best in every child and help them bloom to their full potential.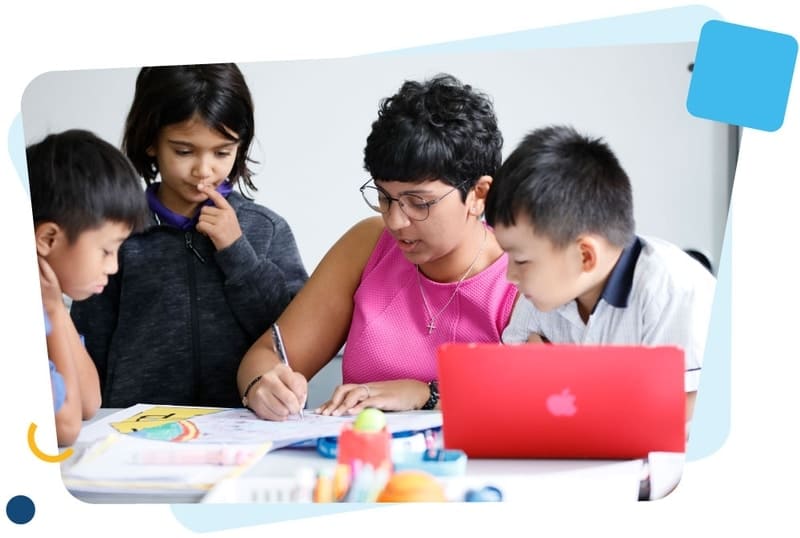 Our experienced teachers are fully trained in-house before they start teaching. They work in close collaboration with our students and parents, ensuring that they meet the unique learning needs of every student. Our teachers are passionate about their work and they make sure that our students get the best opportunity to excel academically and develop key skills needed to thrive in a multicultural environment. 
At OWIS Osaka, we celebrate diversity and multiculturalism. Our students come from diverse backgrounds and communities and work in harmony to uphold the value of global citizenship. We do our best to inculcate the values of compassion and tolerance in our students.
Our Well-Balanced PYP Curriculum Promotes Holistic Development
Skill development of our students remains as one of the core objectives behind whatever we do at One World International School, Osaka. Our students learn crucial skills that not only allow them to achieve success in academics, but also help them deal with real-world scenarios.
Collaboration
We organize creative group projects that help our students learn collaboration skills.
Communication
Our regular activities are focused at developing our students' communication skills so as to make them better equipped to deal with other people from different backgrounds.
Empowerment
Students are encouraged to set their learning path through research on topics that interest them the most and this goes a long way to promote a sense of responsibility in them.
Inquiry
With our inquiry-based curriculum, our students get the opportunity to ask questions and find answers that help them solve real-life problems.
Compassion
We teach our students the value of care, compassion, empathy, and commitment. Our students take part in community service projects, which further contributes to their holistic development.
Multicultural Mindset
We have a global community, and every member of our community is culturally-receptive. Students from diverse backgrounds work together in groups, which helps develop cultural awareness.
"Each theme holistically covers various subjects"
One World International School is a great school because it teaches primary school students how to be kind and respectful to each other. We've found that kindness as a value is prioritised by everyone at the school. We're also happy with the teachers for the attention they give our children and for encouraging them to improve all the time. On the academics side, we have been satisfied with the programme where each theme holistically covers various subjects.
Christina O.
Enjoy a Walkthrough of the OWIS Osaka Campus. Learn more about the curriculum and how we can help you shape your child's learning journey. Book A School Tour.